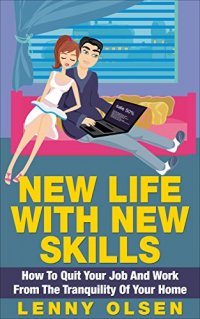 Free on 16th - 20th Aug 15


No reviews yet.
This book appears to be unavailable on Amazon.co.uk at the current time. If this is incorrect, please let us know here
Work from home: Live life as you deserve happily and without stress
From well-paid business professionals, to women staying behind at home to look after their kids more and more people are ditching their stress filled office life for the rewarding home based work.
The reasons for this trend are plenty including

Working from home is comfortable and stress freeBetter balance of work and personal lifeLegitimate and lucrative business opportunitiesMore control over your business and earning potential
Save time, money, and effort.
Imagine the time you get to save by not driving to and from work daily, the money you save on fuel, office wear, eating out and childcare. Working from home is a perfect choice for those who are fed up with their restrictive office work. The portability and flexibility offered by working from home let's you organize your work comfortably around your personal life, so you reach a good work and life balance.
Get rid of stress permanently
The continuous stress of long commutes, difficult employer, annoying coworkers, office politics and frequently missing time you spend with family can take its toll on you heavily. Before you are permanently affected by burnout due to your stress filled job make the shift to home based work and be your own boss.
You can decide on when you work and how much and build a business as you want it to develop into. With a home based business, your performance and hard work decide the success you get.
Embrace the rocking new trend of working from home. Instead of listening to the terms of others, start your own business and create a bright and happy future for yourself. This book helps you identify burnout and its symptoms, and guides you on starting a sound home based business, structuring, and forming a new lifestyle. The ideas and tips given are effective for people of diverse income levels and ages. Read the book to make your dream of starting a business on your own and succeeding in it, come true.
Download your copy today!
Tags: home business concepts, work from home, home-based business, new life new me, new business ideas, earn money from home, business skills, home business, work online, less stress business, business startup strategies, business tips