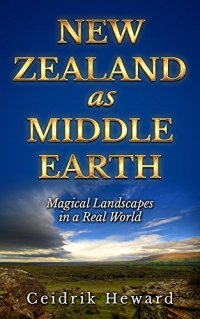 Free on 31st Oct 14 - 1st Nov 14


No reviews yet.
NEW ZEALAND as MIDDLE EARTH is inspired by the locations used in the 'Lord of the Rings' and 'The Hobbit' trilogies. Aimed at all Tolkien fans and those who love to travel, this new book is a roller coaster ride around the magical landscapes that only New Zealand has to offer. Starting with Hobbiton, one of the most famous film sets in history, you'll move further afield to marvel at the spectacular place Rudyard Kipling called 'the eighth wonder of the world'. Discover the #1 waterfall in the world. Meet the world's most intelligent bird and a 111 year old first time dad. You will take a trip on the 100 year old 'Lady of the Lake', marvel at the world's largest wooden viaduct, and one of Australasia's largest wrought iron structures, then spend a moment in an underground power station before a visit to nature's amazing Wedding Cathedral.

The excitement continues with a peek inside the world famous Weta Workshop. There are some real cave wetas for you to meet, along with wonderful glow worms in a remote cave.There's a spooky lake near here too.

You'll go back to the 19th century for the 'Rhine of Maoriland' tour. Hold your breath as you travel on one of the scariest roads in the world. Walk in wonderment through a magnificent native forest and meet some of the fascinating birds that live there. You can also hear one of them!

You'll read about the world's most accessible wreck for divers to explore. Discover a glacier lake filled with icebergs then travel over the 'Misty Mountains' to gaze at the lake of perfect reflections.

How about a breakneck slide down the southern hemisphere's only ice luge? – built by a town with only 100 inhabitants. There are a number of other fascinating small towns with dramatic histories to read about.

Visit two Victorian era factories and pop into New Zealand's most famous haunted hotel then stop at the country's most haunted building. The city where outrageously spectacular paper fashion was born, is pointed out on the way to one of the most tranquil places on the planet.

Be surprised to discover the world's largest sea cave. You'll make a brief trip to New Zealand's third island and find out how dramatic it can be just getting there.

Looking like something from a children's fairytale book, check out New Zealand's most photographed building. You'll read about Australasia's famous tourist train trip and the 'Maori Warrior's Shower'.

There is a bonus section at the end exploring the history behind Middle Earth and how Sir Peter Jackson has become the 3rd most successful film director in the world.