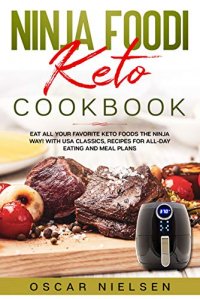 Free on 31st May 22 - 2nd Jun 22


No reviews yet.
This book will be Free on 31st May 22 - 2nd Jun 22
Set a Reminder:
Google Calender - Yahoo Calender - Live Calender
---
Do you finally want to start to cook smart, and do away with that undesired weight?
Are you already on Keto diet?
Do you have a Ninja Foodi?
Have you been searching for a way to save time in the kitchen?
Do you want to still be able to enjoy tasty and healthy foods?
99+ Mouthwatering Keto Recipes for all kinds of air fryers.
? Breakfast Recipes
? Lunch Recipes
? Dinner Recipes
? Quick Classic Recipes
? Delicious Snack Recipes
? Healthy Tuesday Recipes
Comes with a 14 Days Meal Plan and much more…
Whether you want to learn a bit more about ketogenic foods or you want more recipes and tips to creating and enjoying wonderful varieties of keto foods, and stay in shape. This book is for you!
So don?t delay it any longer. Take This Opportunity By Buying This Ultimate Ninja Foodi Cookbook Now!
? Don?t Delay And Scroll Up To Buy With 1 Click