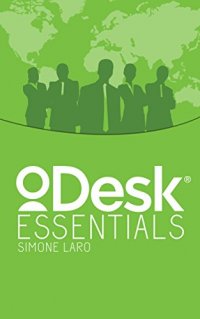 oDesk Essentials – The Definitive Guide For New oDesk Users
Today only, get this Kindle Book for just $0.99. Regularly priced

at $4.99. Read on your PC, Mac, smart phone, tablet or Kindle device.
Here is a bit of what you will learn
This book contains proven steps and strategies on how to take full advantage of the famous global online work platform, Odesk.

Odesk is an instant hit to those who want to work from home and to small business owners who would like to outsource specific jobs to qualified people without hassle. It is an online workplace where independent professionals or freelancers and business owners connect with each other and collaborate in a more remote manner.

This is good for independent professionals who do not want to face the hassle of commuting or transporting to and from work and having to present themselves to a physical office. The wide range of jobs offered in Odesk allows them to work at the comforts of their home, anytime they want regardless of what they wear.

For business owners, Odesk is also a solution to the growing operating expenses that they need to pay on a regular basis. The online global workplace allows business owners to find the best professional for the job that they plan to complete while also paying a lot less. The reason is that they do not have to pay for employee benefits, taxes, office location, and other employee-related expenses.

The benefits enjoyed by both independent professionals and small business owners are among the major reasons why Odesk continues to thrive. If you are a new Odesk user, then this book is surely for you. This will explain to you the basics of using Odesk to earn more. It contains most of the things that you need to know to take full advantage of Odesk in boosting your financial stability and profitability and achieving career growth.

Here is just a glimpse of the things that you will learn by reading this book:
Basics of Odesk and its benefits to freelancers and business owners

Steps that a freelancer or business owner should take to be successful on Odesk

How to earn big as a freelancer (up to a thousand dollars per month)

How to hire the right freelancers

Tips to capture the attention of clients

Questions to ask when interviewing freelancers

Tips to communicate with clients or freelancers

And a lot more
For beginners, this book will serve as a practical and comprehensive guide to get started on your career in Odesk, whether you are a freelancer or a business owner.