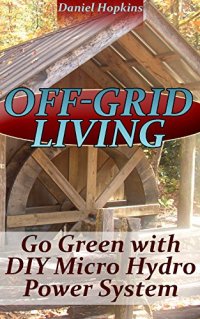 Free on 14th Apr 17



or borrow free on Kindle Unlimited.
No reviews yet.
Getting Your FREE Bonus
Download this book, read it to the end and see "BONUS: Your FREE Gift" chapter after the conclusion.
Off-Grid Living
Go Green With DIY Micro Hydro Power System
If you wish to go off-grid and attain a self-sustainable lifestyle, then you have certainly come to the right place. In this highly comprehensive guide, we will teach you how to create different kinds of hydro power systems on your own.
You might already know that unlike other renewable sources of energy, hydro power doesn't come with any restriction. You can easily utilize a natural source of water or even create an artificial stream of running water to generate power. Learn how to utilize the power of running water and generate electricity with the assistance of various hydro power systems.
You don't have to worry if you have never worked on a power system before. We have started right from the basics in this guide. Firstly, we will make you familiar with the principle of hydro power and what are the major components of it. Subsequently, we will provide an in-depth tutorial to build hydro power generators of different kinds. Some of the topics that are discussed in the book are as follows.
An introduction to hydro power
The working principle of hydro power generators
Major components of a hydro power system
Building a basic micro hydro power system
Building a paddle wheel hydro power system
Building a recycled hydro power system, and more
Don't wait anymore and go off-grid by harnessing the immense power of running water. Create your own hydro power system and go green right away.
Download your E book "Off-Grid Living: Go Green With DIY Micro Hydro Power System" by scrolling up and clicking "Buy Now with 1-Click" button!