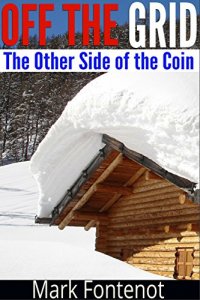 Learn About the Realities of Off The Grid Life
***Read this book for FREE on Kindle Unlimited – Download Now!***
This book contains an introduction to what living off the grid truly entails. The reality of living in a self-sustaining manner. Far from the answer to those wanting to get away from it all, off the grid living is a difficult and demanding lifestyle, which is increasingly being misrepresented in the media.
This book explores both sides of the issue in a fair, open-minded manner so you can have the tools you need to decide for yourself. If offers tips and suggestions for incorporating elements of off the grid living into your life, no matter where or how you live.
Most often, people think that moving off the grid is the only way to feel more independent or live a simpler more natural life but this is not the case. In this book, discover an introduction to what is involved with going and staying off the grid, the pros and cons of doing so and how anyone can benefit from the techniques of homesteading.
Here Is A Preview Of What's Inside…
What is Off the Grid Living?Alternative Energy And Utility SourcesPros and Cons of Going Off GridLegal ConcernsThe RealitiesWays to Incorporate Homesteading Into ON Grid LivingOff The Grid Concepts For On The Grid LivingAnd more….
Learn about the realities of Off The Grid Life. Download "Off The Grid: The Other Side of The Coin" Today!
Scroll to the top and select the "BUY" button for instant download.