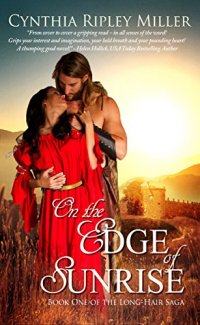 Free on 11th Jun 17


Top - Reviews - Newspaper - Update Details
This book appears to be unavailable on Amazon.co.uk at the current time. If this is incorrect, please let us know here
When love commands, destiny must obey. Against an epic background and torn between duty and passion, Arria Felix, a Roman senator's daughter, must choose between Rome's decadent world and her forbidden

love—Garic, a Frank barbarian noble.
The year is AD 450. The Roman Empire wanes as the Medieval Age awakens. Attila the Hun and his horde conquer their way across Europe into Gaul. Caught between Rome's tottering empire and Attila's threat

are the Frankish tribes and their 'Long-Hair' chiefs, northern pagans in a Roman Christian world, and a people history will call the Merovingians. A young widow, Arria longs for a purpose and a challenge. She is as well

versed in politics and diplomacy as any man … but with special skills of her own.

The Emperor Valentinian, determined to gain allies to help stop the Huns, sends a remarkable envoy, a woman, to the Assembly of Warriors in Gaul. Arria will persuade the Franks to stand with Rome against Attila.

When barbarian raiders abduct Arria, the Frank blue-eyed warrior, Garic, rescues her. Alarmed by the instant and passionate attraction she feels, Arria is torn between duty and desire. Her arranged betrothal to

the ambitious tribune, Drusus, her secret enlistment by Valentinian as a courier to Attila the Hun, and a mysterious riddle—threaten their love and propel them into adventure, intrigue, and Attila's camp. Rebels in a

falling empire, Arria and Garic must find the strength to defy tradition and possess the love prophesied as their destiny.