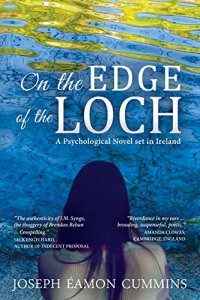 Free on 30th Nov 16 - 4th Dec 16



or borrow free on Kindle Unlimited.
No reviews yet.
Also Available as:
Print Edition

In the Arizona outback, no one came to meet Irishman Tony MacNeill.After nine years locked up, that's how he wanted it. All he needed was a life. Not the one that had been taken from him. Not the younger oneeither. But the life he might have lived, to be who he was meant tobecome. 
At fourteen he'd lost that, and his boyhood. 
Inthe years since, he held his own through a multitude of trouble. Andnow, at 27, he is finally beating the scourge of injustice, and building stability. 
Then, out of the ether, Lenny Quin appears. To him she's an apparition, a fantasy almost. 
But she's real. With a story as extraordinary as his.
On this day, after a winter of hopelessness, in a tiny seafaring villagein western Ireland, the unlikeliest resurrection looms. Through hisdarkness a woman like this was undreamable. And the future, the love,the life she promises forges in him an oath no power will easilycurtail. 
Not that he desires trouble. But even here, in searchof nothing but spirit, and even as their fires fuse intimately, thewarning signs are clear. Soon, spine-chilling events force them apart.Secrets and silence fog what's true. And very old wounds and new dreamscollide. 
Is the past a forever prison for each of them? Destinytoo powerful a foe? Against all that divides them, and for all theytogether might be, Tony MacNeill will commit all he is – once again. 
*From Ireland to America to the underbelly of Baghdad, this psychologicaltale spins with surprises as it unveils the extremes impassioned peoplewill go to, and the frailty and resilience of the human heart.*
*Note to Reader* 
Some books are difficult to place in a genre. Along with 'a love story',critics have described this as 'a redemption novel' and 'a psychological suspense'. It's a serious contemporary story dealing with passions andthemes every reader can relate to. 
*Please don't reveal the ending!* 
You'll find something in the two final chapters that readers should discover through reading. Stay attentive, don't skip ahead! 
*Buy it now*
You'll also find inside a revealing interview with the author and a 10-page Guide for Book Clubs, Teachers and Writing Students.