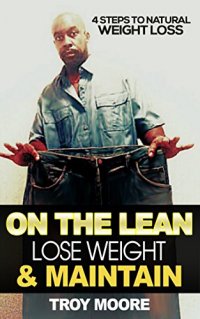 Free on 22nd Feb 19



or borrow free on Kindle Unlimited.
No reviews yet.
Who said diets do not work? " I beg to differ". Troy Moore lost close to 50 pounds NATURALLY by dieting, eating healthy and walking everyday. A healthy weight increases your chances of living better and longer. Anyone can lose weight and become healthier if they get the right information, tap into their inner strength, even better, draw strength from others who have been there.
On the lean chronicles a 240 pound person one-year transition from obesity and a high risk for diabetes to normal weight and reduced risk for diabetes, by mainly dieting and light exercise. On the lean contains the dieting secrets, tips and workout techniques used during this transition.
This book is written proof that losing weight must not necessarily be a difficult task, you can do it, but you must not do it alone. With some motivation, inspiration, proven dieting and exercise advice you can achieve your health goals.
On the lean will help you:
1. Find the strength to pursue and achieve your weight loss and health goals.
2. Show you healthier ways of eating and alternatives to sweets, junk food, etc.
3. Show you why people fail to follow healthy diets.
4. Give you proven dieting and

exercise ideas.
5. Show you how to stay focused when losing weight.
6. Show you how to successfully keep the weight off.
I wrote this book because I want to HELP people. My mother and father both have diabetes. I was very close to becoming a diabetic before I decided to lose weight and make a change. Are you concerned about your health? Do you REALLY want to lose weight? "Look no further". This is my blue print to HELP you get ON THE LEAN.