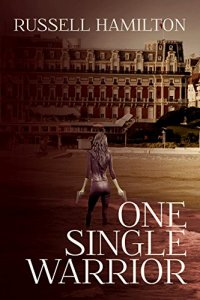 Russell Hamilton's first thriller, Agent of Influence, received high praise from across the spectrum.
"Hamilton delivers a taut political thriller that moves with speed and agility. A fast-paced thriller with an imaginative premise." Kirkus Indie Reviews
"Agent of Influence is an action-packed mystery/thriller that is certain to entertain." City Book Reviews
"This is one roller coaster ride readers won't want to get off." Foreword Clarion Reviews
Now CIA officer Anna Starks returns in One Single Warrior,
In Agent of Influence, Anna Starks saved the U.S. from a massive terrorist attack at the hands of a secretive group known as the Brotherhood of the Caliphate. Now Jamal Mahmoud, the sole survivor of that organization and long-term mole inside the U.S. government has escaped the country. But he has no plans to slink quietly into the night.
As Anna hunts for clues to Jamal's whereabouts in his organization's former base of operations in Las Vegas and through his past in the Special Forces she encounters Dalton Xavier, a former member of Jamal's Seal team, and makes a rash decision she quickly regrets. When ambassadors start turning up dead in the normally tranquil island chain of the Caribbean Jamal emerges as the prime suspect and Anna is dispatched to investigate.
She follows the trail above and below the waters of the Caribbean until she learns the killing spree is not the crazed work of a suicidal terrorist, but a carefully choreographed dance that is designed to end with both her and her country's humiliation. Jamal has chosen a partner for his final gambit, and as the trap closes Anna discovers that partner is someone she is all too familiar with.
The War on Terror is about to get personal.
For more information about Russell and his novels you can check out his website at www.agentofinfluence.org. One Single Warrior is Russell's second full length thriller and is the sequel to Agent of Influence.