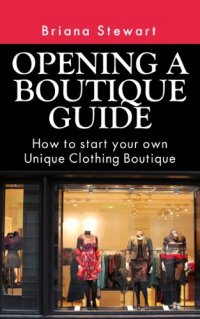 Free on 21st - 25th Mar 15


No reviews yet.
This book appears to be unavailable on Amazon.co.uk at the current time. If this is incorrect, please let us know here
Finally Revealed.. The Amazing insider Secrets of Starting your own Boutique Without Making Costly Mistakes.
Dear Friend
You might want a simple boutique at your local mall.
Or you might want to start your own fashion line and
take your brand to the world… enhancing the beauty
and self-esteem of women of every color, shape and
size.
Or perhaps you'd like you freedom that having your own
boutique would offer.
Would you like to sell swimming costumes and make women
feel sexy on the beach?
How about opening a boutique that caters to the fashion
needs of toddlers and teens?
Maybe you're passionate about helping women.
Maybe you want to create a place where women can relax
and have their needs met… a really trendy place where
women from everywhere want to shop and get the latest
fashion tips.
Today only, get this Amazon bestseller for just $9.99. Regularly priced at $14.99. Read on your PC, Mac, smart phone, tablet or Kindle device.
But of course, there's that one teensy-weensy issue…
The subject of MONEY…
Where do you get enough cash to get started?
How do you make enough sales to cover your overhead?
What if you fail? (*gulp*)
Or maybe you simply don't know how to do it?
What about marketing? How will you bring people into
your store?
Perhaps you're afraid you won't make enough money to
pay the bills and you'll have to go back to a regular
job.
Ughh!
I want to tell you something VERY important…
Those are all legitimate fears.
They all represent barriers to your success. Unless you
overcome them, you'll never end up with the boutique
you've been dreaming of.
But that's where The Definitive Guide To Opening A
Boutique comes in.
It teaches you how to open a successful boutique in 60
days or less… without a pile of money, perfect credit
or industry connections.
You know, I've helped HUNDREDS of aspiring fashion
entrepreneurs discover just how simple it is to build
a successful boutique.
Simple, but not easy.
Sadly, there's no replacement for plain, old hard work.
But with the tips, tricks and tactics in my guide,
you'll be on the path to success, just like hundreds of
aspiring fashion entrepreneurs before you.
Ready to get started?
You can finally pursue your passion, share your ideas
with the world, and find the financial freedom that
only comes from doing work you love.
Get Your Copy Today
Cheers,
Briana Stewart
Founder, OpenBoutiqueGuide.com
P.S. I know how easy it is to get stuck in a cycle of
worrying.
It seems like there's so much to think about…
[+] Start up capital[+] Acquiring your initial inventory[+] Finding the right space[+] Locating suppliers[+] Sourcing materials[+] Contracts and agreements[+] And so much more
And all of a sudden, months have gone by and you're no
closer to your goal.
Your dream is dying on the vine.
First you start worrying…
Then you read a few articles to try to find some
help…
Then you don't know which answer is the right one, or
who you can trust…
And then you start worrying again.
Do you see what's missing in that process?
Action!
It's time to break that cycle.
It's time for you to get on board with a proven plan
for building a boutique that you can count on to help
you meet your goals.
Download Your Copy Today
Take action today and download this book for a limited time discount of only $2.99! Hit the Buy Now Button!!