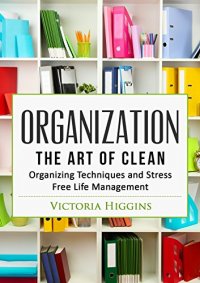 Free on 2nd - 3rd Oct 18



or borrow free on Kindle Unlimited.
No reviews yet.
Your Ultimate Guide to getting Organized!

Free bonus inside! (Right After Conclusion) –

Get limited time offer, Get your BONUS right NOW!
This is the only book you need if you want to find out the secrets of getting organized
With Organization: The Art of Clean – Organizing Techniques and Stress Free Life Management , you'll learn all about how you can get yourself organized with ease. Staying organized comes with a lot of benefits. You get to save so much time, you enjoy your life more and you have so much energy to do more in life. To get organized, you need to understand and utilize the most efficient and practical techniques that you can find. You shall also discover: –
o How to get started with basic cleaning

o How to get rid of the clutter in your home

o The best way to use storage containers

o Stress relief through proper planning and prioritization

o How you can manage every area of your life and live stress free
To develop your organization skills, you need to have a clear understanding of the different techniques you should use, and how to practically apply them. These book approaches every aspect of organization improvement as well as looking at the various organization techniques. Knowing how to use these in a practical way makes organization so much easier.
Read this book for FREE on Kindle Unlimited – Download NOW!
Get all the tips that you need to make the management of your life much easier. This book will teach you about the importance of staying organized. Doing so will make it possible for you to improve your life in various ways, so that you are never caught without a proper plan.
Just scroll to the top of the page and select the Buy Button. Download Your Copy TODAY!