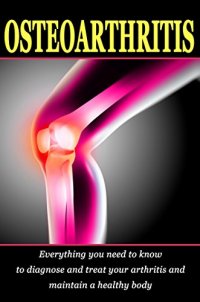 Osteoarthritis: Everything you need to know to diagnose and treat your arthritis and how to maintain a healthy body
Read on your PC, Mac, smart phone, tablet or Kindle device.
In 2011 my mother's arthritis left her in a height of intolerable pain and discomfort for several months. She had swollen joints, had lost her normal functionality and was also on the verge of insomnia each night. This was her osteoarthritis at work. Fortunate to say she did recover from this spell, and in reflection on this event, I thought it may be of some help to others also suffering if I could provide information that would be of benefit.
This book covers everything you need to know to understand Osteoarthritis and, most importantly, how to treat it. Below is a summary of areas covered but please feel free to take a "look inside".
What is Osteoarthritis?Prevalence of OsteoarthritisWhat causes Osteoarthritis?Risk factorsGeneric factorsSpecific bone/joint related factorsThe Signs and SymptomsDiagnosisHow to manage OsteoarthritisTreatment with medicationsTreatment with SurgeryNutritional and Dietary SupplementsNatural therapies from around the worldAcupunctureChiropracticPhysical TherapyBalneotherapyHeat and cold therapies, Transcutaneous Nerve Stimulation (TENS), and Electro-acupunctureMechanical AidsHomeopathyMind-Body MedicineYogaTai ChiQi GongLiving with the diseaseHow to maintain a healthy lifeHow to prevent OsteoarthritisMy mothers recover
Download today!
Tags: Osteoarthritis, Osteoarthritis rehabilitation, Osteoarthritis diet, Arthritis pain, Arthritis relief, Arthritis treatment, Rheumatoid Arthritis