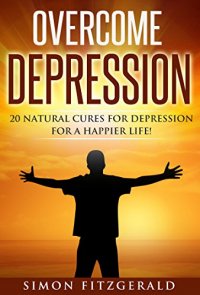 Free on 30th Oct 18



or borrow free on Kindle Unlimited.
No reviews yet.
Discover How To Overcome Depression For Life!
Depression is more than just about having episodes of sadness. Experiencing

some kind of loneliness is an inevitable part of life. However, you know you're

depressed when feelings of anger or sadness, lack of energy, lack of sleep and

loss of interest interfere with your daily activities, and prevent you from living your

life to the fullest.

Depression is indeed an illness; true, this may not sound like a very good thing.

However, the good thing about this is that depression can be overcome. If you are

depressed, have comfort in the fact that you can recover from it. Armed with effort,

determination and motivation, this book is going to be your guide to overcoming

depression naturally. By reading this book, you will be equipped with twenty ways

to naturally overcome depression.
Here Is A Preview Of What You'll Learn…
Choosing the right diet for overcoming depressionIdentifying supportive people to surround yourself withMindfulness and MeditationFinding passion in your lifeListening to right kind of musicPracticing gratitudeExercise and getting outsideAnd much, much more!

Download your copy today!
Take Action Today and Download this Book for a Limited Time Discount of only $0.99!