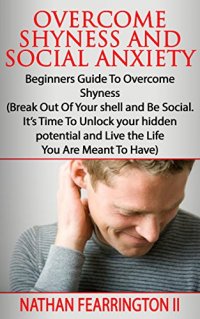 Bargain on 19th - 23rd Sep 17



or borrow free on Kindle Unlimited.
No reviews yet.
Steps by Step Guide To Overcome Shyness & Social Anxiety

Today get this Amazon bestseller at a discounted price of $0.99
Read on your PC, Mac, smart phone, tablet or Kindle device.

This book has actionable information on how to overcome shyness and social anxiety.

The first thing that you will realize after reading this book is that you are not alone. Many people all over the globe experience some range of shyness or social anxiety. We all have moments of fear, when we feel we might not measure up to people's expectations. For many of us, the first thing we do is to withdraw from social and professional situations.

The fear of Shyness and Social Anxiety not only does it cause you to feel uncomfortable but if not checked it can often lead to loneliness and depression. You also can end up missing the chance of meeting amazing people because of your fear of social situations. Don't you just hate that we let our fear of being judged and ridiculed limit ourselves. We often get so nervous that we end up spending most of our time alone to avoid our fear of social anxiety because fear of being rejected when actually it is us rejecting ourselves before conversation even starts

So what can you do to fix the situation? Well, if the thought of engaging in a social conversation scares and intimidates you, this book is meant for you. In it, you will find solution to social anxiety and shyness. The strategies we shall discuss are simple yet very effective. Right now you may feel like their is no hope for you but I am here to tell you that it's never to late to change your life

Break Out Of Your shell and unlock your hidden potential and live the Life You Are Meant To Have
What you will learn
Table of Contents
Understanding Shyness and Social Anxiety
How Smiling Changes Your Brain Chemistry and Body
The Power of a Hobby
The Power of Goal Setting
The Power of Rewards