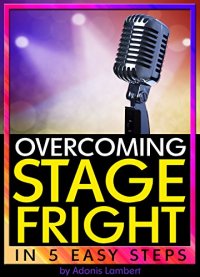 Free on 22nd - 24th Dec 21



or borrow free on Kindle Unlimited.
No reviews yet.
If you're ready to beat stage fright and feel comfortable and confident in the spotlight, then this book is for you!
Read on your PC, Mac, smart phone, tablet, or Kindle device.
Let's face it: We all will have to speak or perform before a group at some time in our lives, whether before a big crowd or in front of a small class. When you get stage fright, the size of the audience doesn't make much of a difference. It just feels crazy scary, and there seems to be no way around it. Even notable actors, popular comedians, and the very best public speakers suffer from stage fright every once in a while. It's simply natural. It's also natural to worry about how a speech or performance might turn out or be perceived. And that's a good thing, right? It means you aren't overly cocky or arrogant. Too much confidence translates into a speaker who sounds preachy and condescending to the audience.
The key here is finding a balance. You want to be comfortable and at ease when addressing a group, without feeling paralyzed or distracted by stage fright. In fact, you should be able to actually enjoy your moment in the spotlight! If you feel like you haven't reached that balance yet – or aren't anywhere near it – then this book can definitely help. We'll work together, step by step, to get you to the point where you can comfortably speak or perform on stage. I'm going to show you how to teach yourself confidence, and how to use your anxiety to your own advantage. With this book, you will learn techniques to put on a brave face and deliver to your audience with poise and grace. Let's get started!
Here Is A Preview Of What You'll Learn…
How to Improve Personal ConvictionDeveloping "Vision Based" ConfidenceMaximizing Prep Time Before a Public Presentation or PerformanceHow to Use Nervousness and Anxiety to Your AdvantageHow to Play the Role of a Confident Speaker or ActorBecoming an Opportunity SeekerMuch, much more!Download your copy today!