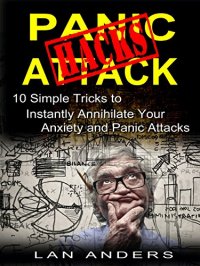 Bargain on 30th Mar 20



or borrow free on Kindle Unlimited.
No reviews yet.
Discover The Truth About Panic Attacks You Haven't Been Told
Are you still suffering with panic attacks even after years of therapy?
Have you taken all kinds of medications that didn't cure you?
Are the side effects from your pills only adding to your problem?
Have you tried everything your doctors have told you but still have panic attacks?
It's not your fault
Almost all of us have been treated by well meaning doctors and therapists who have never suffered from panic attacks and anxiety disorder. They are simply following the recommended treatments that may work for some people.
My accidental discovery
I suffered with panic attacks for 5 years, and I know many of you have suffered much longer than that. This condition ruined my health, my self esteem and my marriage.
I went through all the typical treatments with pills and therapy, but the attacks kept getting worse until I was completely housebound with agoraphobia for two years. I was miserable and desperate and sick of living in fear.
Then in the middle of a particularly bad panic attack, I discovered 1 simple trick that gave me almost instant relief. A panic attack hack! How about that?
That gave me the jump start I needed to learn more simple tricks to keep moving forward to a rapid recovery and a cure. I have had my complete freedom from panic attacks and anxiety for over 20 years now without medications.
Have there been times since then when I felt anxious or panicky? Yes, a few. However, I was quickly able to find my balance before I had a full blown attack. I simply resumed using the strategies I practiced to end the panic attacks.
I now know I'll never have to suffer like that again. And I'm here to share my story in the hopes it will help you to reclaim your life the way I've been able to. In fact, I hope you'll find you your life becomes even better because of your challenges with panic and anxiety. Mine sure has.
Why did I write this book?
I was inspired to write this book for you after hearing what Jack Canfield said about his bestseller "Chicken Soup for the Soul". He felt the deepest satisfaction from knowing his book had changed someone's life, and for sure it has changed many lives (you can read more about his story in my introduction). And my sincere hope is that my book can help even one person break free.
I share with you the hacks, tips and tricks that I still use today to maintain my well-being and happiness. I even give you links to additional books, videos and programs that I wish were available back when I made my discovery. Everyone is different and learns in their own way and I want you to have every possible chance to experience the happy life you deserve.
Inside my book you will discover:
1 simple trick to turn the tables against your attacker (fear).
10 total hacks to use immediately to stop or prevent panic attacks
How you could actually be making your condition worse.
How traditional treatments can actually decrease your chances of getting well.
How what caused you to suffer from panic attacks in the first place is key to your freedom.
How having suffered from panic and anxiety disorder can change your life for the better.
Foods and natural remedies to ease your stress response.
When you finish you will be able to:
Start feeling better today!
Enjoy going places and doing fun things again.
Feel relaxed, safe and calm in situations you used to avoid (like air travel, elevators or driving).
Have a simple toolbox of tricks can use use whenever you need them.
Ready to discover what REALLY works?
Scroll up and get your copy today and receive a free printable cheat sheet of the hacks, tips and tricks covered in the book to keep you on track as you reclaim your well-being.