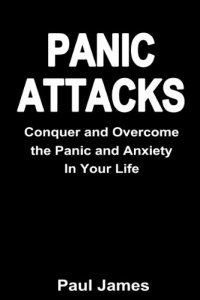 Free on 16th - 20th Aug 15



or borrow free on Kindle Unlimited.
No reviews yet.
Do you want to be able to overcome anxiety and that horrible feeling of an oncoming panic attack? There are answers to you stress and anxiety questions. This guide goes through what causes panic attacks and how they can be stopped and also prevented.
Today get this Amazon eBook for only $2.99. Regularly priced at $4.99. Read on your PC, Mac, smartphone, tablet, or Kindle device!
These Strategies and Principles Can Help You Overcome Anxiety Limitations
This guide will help you set a routine that will help you be more stress free. How come there are so many bad symptoms associated with panic attacks? Where does it all stem from? Certain people are more prone to panic attacks and others take better preventative measures and never experience one their whole life. Whether you have just had your first panic attack or your fifth, there are things you can work on to prevent having another one.
A Preview Of What You Can Learn
How to build a stress-proof lifeHow to create a lasting routine to prevent panicHow to create a winning attitude and not give in to your fearsWhat freedom you can gain by getting to the core of the anxiety problemHow stop a panic attack, mid-freak outEnjoy not worrying and stressing about sudden chest pains or shortness of breath
Why read a guide on panic attacks? I am giving a simple path to stopping panic attacks and then prevention for your coming days. Also included is a history on where panic attacks start and come from biologically. This is not complicated, but it does have key steps that could provide a breakthrough for you.
Tags: Optimism, Emotions, Positivity, Attitude, Wealthy, Confidence, Habits, Creation, Production, Procrastination, Media, Productivity, Goals, Focus, Concentration, Development, Improvement, Momentum, Panic, Panic Attacks, Anxiety, Stress
Download Your Copy Today
The material in this eBook is easily worth more than $4.99, but for a limited time you can download Panic Attacks: Conquer and Overcome the Panic and Anxiety In Your Life for a discounted price of only $2.99!
To order Panic Attacks: Conquer and Overcome the Panic and Anxiety In Your Life, click the BUY button and download your copy today. You can read the book from the convenience of your Kindle, Computer, or Tablet.