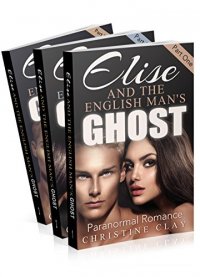 Elise And The English Man's Ghost: The Complete Three-Part Series
Part One:
Elise Manfred is much looking forward to visiting Romania, together with her college friends. They have also chosen a specific destination for it: Bran Castle, located in Brasov city. They plan on visiting the birthplace of the most renowned legend: the legend of count Dracula.
Nobody knows or suspects the upcoming adventure they`ll face once they get there and Elise is yet to live the experience of her life. It all starts in the first night, after getting there. What is that strange noise Elise is hearing? Why does it seems to her that there`s somebody else with her, in her room, after she switched off the light? Whose crying voice is she hearing?
Eventually, she manages to fall asleep but with her heart racing. The next day she meets up her friends and to her own surprise, Elise discovers that all she heard in the night before was heard by her colleagues, too! So, it wasn`t only in her imagination! It happened for real!
They carry on with their day, visiting the surroundings, taking pictures and so on, until night time. After having dinner, Elise returns to her room and tries to get some sleep as she is tired. She barely closes her eyes and that noise is heard again! Elise is really afraid now! Her heart beat goes crazy, her mind is creating all kinds of scenarios! Are those steps she`s hearing on the carpet? Is that a person`s breath she`s sensing approaching her bed? Eventually, those steps are going away but Elise hears another noise – just as when somebody takes a seat on the couch. Elise takes a quick peak from under the blanket but what she sees widens her eyes: a ghost. The ghost of a English man, on his name, Hugh Portman.
Part Two:
Elise swore to help Hugh with finding the man who killed him. She goes to the police station and tells his story to the officers but unfortunately, it is not enough; they ask evidence for what she said. Disappointed, Elise goes back to her room hotel and Hugh shows up. He tells her that he knows about the episode, as he was there, in that room with her and the officers.
Being human again, Hugh is more determined than ever to find Gyuri – the man who killed him – and the person who hired him to complete this "mission". He`ll have no rest until he does so and is willing to do whatever it takes to see the criminals behind the bars and to take back from the Romanian government the Bran castle – the very reason Hugh came to Romania in the first place.
Will he achieve to accomplish his two most burning desires…?
Part Three:
A grave, a gun in the yard. Bran castle`s yard. How did it end up there, and who dug that grave? And why? These are questions that torment police officer Bogdan Stan. He has no choice. He wants to find out the truth, wants to discover whether Elise`s story is true. Along his colleague, Jon Roman, they go to the castle and start digging to find the grave. To they own surprise and astonishment, the grave is discovered, and the gun in it too, just as she told them. If there is a grave, then it means someone dug it. If there is a gun, this means someone used it. Further investigations reveal connections of it with Sylvester Gyuri. A search is made on his name, but will he be found?
For Hugh and Elise more things come up to surface. What will Elise do now, since she has to return to US to finish her studies? Will she just give up on them and remain in Brasov, or will she go back with her friends? As for Hugh, what decision will he make? He hadn`t seen his family for over 5 years, he needs to return to UK and let them know that he is well, and alive. But this is where the crucial point appears; what will happen with their relationship? What will happen with the love they feel one for another…?
What Are You Waiting For? Get "Elise And The English Man's Ghost: The Complete Three-Part Series" Right Now for Just $0.99!