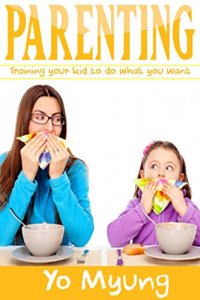 Bargain on 9th - 13th Dec 16



or borrow free on Kindle Unlimited.
No reviews yet.
Use these proven parenting techniques to raise your kid as best you can
To be clear, this book does not encourage passive aggressive strategies or truly manipulative parenting that scars children forever. "Manipulation" in this case means shortcuts that you can take to bypass all the "but why" and "but I don't want to" complaints when you just don't have the energy to deal with that.
You may not get everything right in the beginning, but if you course correct along the way and stay consistent, you'll achieve the end result that you hope for. If you take the time to put yourself in the right mindset, you'll be able to deal with the ups and downs of raising your little one. This means not allowing frustrations to derail your efforts, and instead being a lot more patient and motivated to keep moving forward. Your increased patience will help your toddler out as well. When the environment feels good to a child, they become eager to keep learning and growing. You are the center of their attention, so they are watching everything you do and often take emotional cues from you as well.

Is Your Child Defiant And Uncooperative?
None of us, including psychiatrists, has enough energy or time to monitor and redirect all the things children do every day. If we are to use discipline to guide children to do what we want or what is expected of them, we'll need to limit our efforts to behaviors truly worthy of our time, attention, and efforts. To get the job done, we need to answer three questions:

o What's misbehavior?

o What's the right acting behavior?

o When is misbehavior severe enough to call for discipline?
Here is a preview of what you'll learn
How to get your kid to sleepHow to get your kid to eatRoutinesTime outsReinforcing discipline
Get this book now for $0.99!