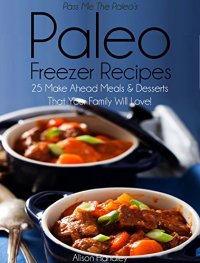 Pass Me The Paleo'sPaleo Freezer Recipes: 25 Make Ahead Meals and Desserts That Your Family Will Love!
Get this Amazon Bestseller for just $0.99. Regularly priced at $4.99. Hurry, Sale is only good through December 31st! Read on your PC, Mac, smart phone, tablet or Kindle device.
The Paleo Lifestyle is becoming extremely popular but the big knock on it is that its not EASY! In this book you will discover TONS of great make ahead recipes that can be easily frozen to allow you to eat amazingly delicious, HEALTHY food every day of the week!! What more could you ask for as it pertains to the health of you and your family?
Here are all the great recipes you will enjoy

Chicken and Vegetable Soup

Mushrooms, Garlic and Chive Oil Soup

Easy Pressure Cooker Beef Stew

Pressure Cooker Chicken Soup

Beef Spare Rib and Vegetable Soup

Paleo Borsht Soup

Butternut Squash and Ground Beef Chili

Chelo Kebabs

Paleo Lamb Meatballs with a Moroccan Twist

Slow Cooker Chicken, Vegetables, with Coconut and Ginger

Cornish Hen Tagine with Orange Flower Water and Dates

Roast Duck Portions with Quince, Honey, Ginger and Cinnamon

Iranian Spiced Lamb with Apricots

Pineapple, Coconut and Pork Curry

Beef Curry with an orange twist

Chili Pork and Tomato Curry

Aubergine, Courgettes, Sweet Potato Medley

Spicy and aromatic mushroom curry

Easy Slow Cooker Meatloaf

Breakfast Paleo Sausages

Black Cherry Coconut and Agar Ice Cream

Coconut Sorbet

Mango Lime and Coconut Ice Cream

Nectarine Kiwi Banana Ice Pops

Pineapple Ices
Free Cookbook Included! Access to "All Day Paleo Recipes: 30 Mouthwatering Recipes for Breakfast, Lunch,

Dinner!"
Download your copy today!

Take action today and download this Amazon Bestseller for a limited time discount of only $0.99 through December 31st!