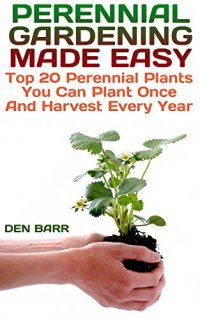 Free on 10th Aug 17



or borrow free on Kindle Unlimited.
No reviews yet.
Getting Your FREE Bonus
Download this book, read it to the end and see "BONUS: Your FREE Gift" chapter after the conclusion.
Perennial Gardening Made Easy
Top 20 Perennial Plants You Can Plant Once And Harvest Every Year
Let's be honest, gardening is one of the most relaxing things you can do. Getting away from the buzz of everyday life and getting into the buzz of the bees as you plant and weed through your garden is one of the greatest ways to unwind on the weekend or after a long day at work.
But, you know you hate it when you find the perfect layout for your garden, you've taken the time to plant, and you fell in love with what you grew, but you know it's only going to last for the season. Nothing that you plant this year is going to come back next year, and you don't know if you're going to be able to find the same selection.
So what do you do?
Obviously, the best solution is to plant something that is going to come back year after year. Perennials are the perfect solution to any gardener who enjoys seeing the fruit of their labor return with the season. But – how do you know which perennials to plant, and where to plant them?
That's where this book comes in. In it, you are going to learn how to plant the best perennial garden you can imagine. With these top 20 plants, you are going to get the results you want in no time, and you are going to fall in love with your garden year after year.
Come with me on this journey, and discover just how easy it is to garden. You thought you were in love with the process now, just wait until you see what is in store for your yard.
Discover the secret to planting perennials
Have fun as you select plants that will return year after year
Create a vibrant garden that you know is going to return
Become the gardener you have always wanted to be
And much, much more!
Download your E book "Perennial Gardening Made Easy: Top 20 Perennial Plants You Can Plant Once And Harvest Every Year" by scrolling up and clicking "Buy Now with 1-Click" button!