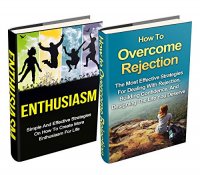 Free on 22nd - 26th Mar 15



or borrow free on Kindle Unlimited.
No reviews yet.
Everything In Life Is Based On Decisions We Make
Tools and strategies to step your game up, all in one bundle
There is one thing that is positively contagious and it makes people want to be around you on a consistent basis because your energy bring out the best in others. That is ENTHUSIASM.
There is also one thing that prevents people from manifesting the things they truly desire, yet they know in their heart going for their desires would generate more happiness in their lives. That roadblock is due to a FEAR OF REJECTION.
Everything that you will be absorbing in these two books will offer effective strategies for both cases:

1) Harnessing more enthusiasm

2) Overcoming your fear of rejection
Life doesn't have to be as complicated as we make it out to be.
We just the right strategy to direct us toward a deeper understanding of what we truly want, what we are willing to do to get it, and how we can get there effectively and efficiently.
Here is but a dose of what you will learn inside of How to Overcome Rejection:
The Reality of Rejection

Transformation into an Opportunity

The Two Solutions: Short-Term Relief & Long-Term Relief

Practicing Introspection

Knowing Yourself Using The Johari Window

Celebrating Your Strengths

Addressing Your Challenges

Designing Lifestyle
Here is what you will find inside of Enthusiasm
How to Find Your Passion

How to be Awe-ful

How to Overcome Challenges

How to Boost Self-Confidence

How to Hyper-focus

How to Use Sounds, Motion, and Action

How to Overcome Stress

How to Create & Reverberate Energy
Let's Make Decisions That Empower Our Very Being And Inspire Us To Bring Out The Very Best In Others
DOWNLOAD your copy NOW by clicking the orange button on the upper right
Tags: Overcome Rejection, How To Overcome Social Anxiety, Emotional Eating, Live With Passion, Build Confidence, How To Handle Rejection, How To Deal With Rejection, Overcoming Rejection, Fear Of Rejection