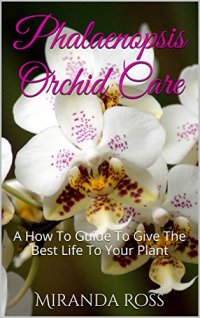 Free on 7th - 8th Dec 15


No reviews yet.
This book appears to be unavailable on Amazon.co.uk at the current time. If this is incorrect, please let us know here
Learn How To Take Care Of Your Phalaenopsis Orchids Step By Step To Keep Them Healthy And Blooming!
Today only, get this Amazon eBook for FREE $9.99!

Read on your PC, Mac, smartphone, tablet or Kindle device.
Phalaenopsis orchids are easy to keep, lovely to see, and exciting to grow on your own. The process mentioned in the book is just to help you know how to take care of your orchids and turn them into fully grown cycles of plants.
When you put all your effort in cutting, misting, watering and managing the best light, there is not greater joy then seeing the flowers sprout. This seems like a reward to your worries and hard work.
The book has focused on the approaches which you can utilize to keep your moth orchid alive and healthy. There are also some tips on cutting the spikes and fertilizing the orchid.
Overall, the book gives an overview of this plant, conditions of its survival, and important knowledge about it. You can easily learn about the growth of these orchids even if you are a beginner at it. You just need to know that no one is perfect and even the perfect ones had first times.
Here Is A Preview Of What You'll Learn bout:
Phalaenopsis Origin Types of natural habitats for Phalaenopsis orchids Orchid care for beginners Conditions to grow a Phalaenopsis Orchid Safety for Your Phalaenopsis Plant The consequences of over watering Cleaning Phalaenopsis orchid leaves Identification of the moth orchid Epiphytic indoor plants How to Fertilize Moth Orchids Chemical needs of Phal plants Nutrients Requirements for a moth orchid Difference between orchid fertilizer and others Organic and inorganic fertilizersAnd Much More!
Download your copy today!

Take action today and download this book with big discount for $2.99 $9.99. Limited time offer! Don't wait for next year's resolutions, read this short e-book and cultivate your Phalaenopsis now!
Scroll to the top of the page and select the "add to cart" button.