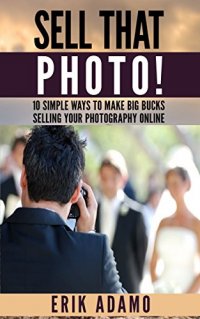 Free on 16th - 20th Jun 16



or borrow free on Kindle Unlimited.
No reviews yet.
"Sell That Photo" 10 Simple Ways To Make Big Bucks Selling Your Photography Online.


Today only, get this Amazon bestseller for just $.99. Regularly priced at $4.99. Read on your PC, Mac, smart phone, tablet or Kindle device.
"Sell That Photo" Reveals 10 of the most lucrative ways

to make money selling your photography work even if you're

amateur photographer who has never sold a photo in your life!
This book is for you if you:

Have ever wondered what your life be like if YOU could do something you loved for a living.What it would be like to spend more time with your family, and be available when they needed you most.Wondered what it would be like to work on a schedule that is convenient for you.Ever wanted to make extra money from something you do for free anyway.
Well now you can. The digital photography industry has been

enjoying explosive growth over the past few years.
Did you know Photography Jobs is one of the highest earning

jobs today? In fact everyday thousands of photographers are

making hundreds even thousands of dollars from selling their

pictures online!
Plus advances in technology have led to amazing digital

cameras, and photographers can now easily upload, share and

email their photos via the Internet.
So if photography has always been a passion for

you; one that you would love to make into a full time

career, maybe its time to make that dream a reality.
Maybe you've been photographing your friends and family for years, and they've been urging you to try and sell your work.
Or maybe you're having a harder and harder time going to that job every day that just doesn't seem to have a purpose.
In Sell That Photo, you will learn exactly

how you can get started selling your photography! You won't

learn just one way to sell photos, but I will show you

multiple strategies – so that you can make the most of every

opportunity to cash in with your photography!
Even if you have a full-time job already, this is an excellent

way to earn a little extra income on the side because as a

freelance photographer YOU get to decide just how many hours

you put into your new business.
Imagine spending your time taking photographs of the things

you love in life – flowers, landscapes, friends, family,

weddings… whatever you want… and knowing the whole time

you're creating passive income where money streams in 24

hours a day, 365 days a year!
Here Is A Preview Of What You'll Learn…
Choosing the right type of photography that sells like hotcakes. Which online companies pay TOP DOLLARYou'll discover the tips and tricks wealthy photographers use to quickly and easily get their photos in front of hordes of buyers.Simple steps to effectively market your imagesHow to scale up your image sales quickly and profitably. How to pick your specialist niches.The two key factors you need to know before you start pulling in cash from stock photo sites!And Much, much more!

Download your copy today!

Take action today and download this book for a limited time discount of only $2.99!
Tags: photography, freelance photography, make money with photography, how to start on online photography business, photography business, Photography, Digital Photography for beginners, DSLR Photography For beginners, Photography for beginners, Digital Photography, Photography lighting, digital Photography, photography books, Photography basics, Photography backdrops, Photography composition, Photography editing, DSLR photography