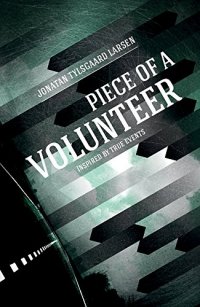 Free on 13th Sep 17



or borrow free on Kindle Unlimited.
No reviews yet.
Michael has just finished his studies in journalism when he joins a U.S. relief organisation in Honduras. He finds himself unprepared for the brutal reality of the gang-ridden country. Through his work, he steadily gets more and more entangled in the battle against a corrupt security company – the part he plays could cost him his life.
oCan he trust his own Western instincts in such an unfamiliar environment?
oWill his friends, and especially the mysterious Maria, turn out to help or hurt him?
oAnd where, in all of this, is the limit of his responsibility towards people he hardly knows?
Piece of a Volunteer received praise such as "exciting and captivating", "shines in its always relevant and realistic narrative" and "best crime fiction of the summer". The book orginally appeared in Denmark and the Nordic area that also produced "The Girl with the Dragon Tattoo" and "The Killing". Into it is woven the culture of American U.S. aid work in a violent Latin American setting.
Now, in recognition of the 10-year anniversary of the murder of human rights lawyer Dionisio Diaz Garcia, on whom the book is based, it has now been translated for the English-speaking market. Dionisio worked for the Honduran justice organisation the Association for a More Just Society (national chapter of Transparency International in Honduras), an organization that continues to defend human rights in the country.
The author is a former volunteer in Honduras and has conducted in-depth research with police, investigators and judges around the case.
Selected praise in Denmark upon first publishing:
"Violent incidents and surprises combine with an intriguing development of the central character." Vibeke Blaksten, Kristeligt Dagblad (major national newspaper)
"The Volunteer is ideal for backpackers … but keep it away from their parents! This novel is both exciting and well written. Miguel is in many respects an anti-hero. A bull in a china shop, endangering his surroundings and crushing the heart(s) of women. But exactly this makes the history so charming: real people of flesh and blood often do stupid things, get into trouble and get bruised because of love." Kathrine Alexandrowiz, www.bogblogger.dk (leading internet book site)
"Best crime fiction of the summer." Hanne Pedersen, Krimi-Cirklen, established crime-fiction magazine
"It's a well-written thriller that shines in its always relevant and realistic narrative." Steffen Gordon Nielsen, National Library Review
"The reader is transported to Honduras, sees and experiences the locations in an engaging story." Jesper Løvenbalk Hansen, Dagbladet Information (national newspaper)
"'The Volunteer' grips the reader from start to finish. For those interested in Latin America it's practically mandatory reading." Laue Biehl Nørgaard, expert in Latin America.
"This is a novel that reeks of authenticity. The novel has it all: the murder of a human rights lawyer, corruption, threats, assaults and a dash of romance." Niels Henrik Hovaldt, IM's Tidende, weekly
"The tension is electric, the twists and turns will have the blood pumping in your veins." Klaus Slavensky, board member Danish PEN
"The Volunteer is an exciting book that's quickly read." Edith Theis-Nielsen, Udfordringen, weekly