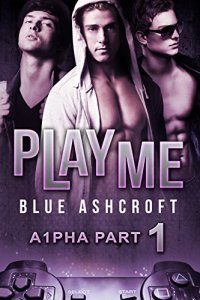 No girl ever plans to be living with three hot, geeky guys in a mansion owned by her bitter ex crush. But that's what happened to me when I escaped an abusive ex and ran back to my old college gaming buddies for help. It'd be a simple solution except for one thing…
Alex Dumont, aka A1pha. The pro gamer with perfect reflexes is as gorgeous as I remember, with the same sharp blond hair and striking green eyes. But he's also different. Colder. And it's not just the grudge he's bearing against me for leaving before. Something happened to him while I was gone, and no one in the isolated mansion will tell me what it was.
Now it's up to me to get to the bottom of it all. But with the rocky history between us, and a limited amount of time before my ex catches up, it's not going to be easy. Then again, with A1pha, nothing ever was.
But now that I'm back by his side, I know one thing for sure. He's worth any trouble he causes.
Important note from the author!

A1pha Episode 1 is the first novella in a complete new adult romance series about gamer girl Kira and her three hot, nerdy housemates. Each installment is long novella or short novel length (between approx. 28,000-33,000 words), with an intense cliffhanger at the end.