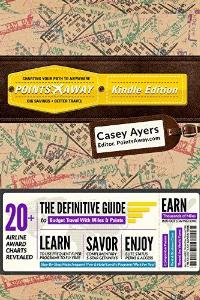 You can travel the world for free using frequent flyer miles and hotel points.
Don't believe it? In the past year alone, I've booked 90,000+ miles of free airfare and weeks' worth of free stays at 5-star hotels for my family and friends. Each week, I also show readers at PointsAway.com how to take the trips of their dreams while saving thousands.
This book is the ultimate guide to travel deals and budget travel, helping you save thousands of dollars on your dream trip using miles and points programs. It contains every tip, trick and secret of free travel and cheap travel that I know.
I'll take you step by step through the basics of free travel, then provide you with in-depth information about more than 20 frequent flyer programs and the world's most popular hotel loyalty programs.
What You'll Learn:
• You'll discover how to quickly and easily rack up tens of thousands of miles and points without leaving home and see how you can start instantly earning free travel while shopping or dining out.

• You'll learn how to find and book the best award flights, cheap plane tickets and free nights at luxury hotels, bringing your dream trip in reach.

• You'll uncover the secrets to companion passes, traveling in First and Business Class for free.

• You'll even learn how to construct your very own round-the-world trip for less than the cost of one domestic flight.

• You'll receive VIP treatment worldwide after quickly gaining elite status with the world's leading airlines and hotels.

• You'll learn how to gain access to exclusive airport lounges without paying for expensive memberships.
For beginners, this book contains everything you need to know. For veterans of air travel and savvy points and miles earners, the secrets of earning elite status and free upgrades will be incredibly valuable.
Your dream adventure doesn't have to wait a minute longer. Learn how your next trip is just…points away!
List Of Chapters:
Chapter 1 – A Football Game Taught Me How To Travel For Pennies

Chapter 2 – Points & Miles: Exploring The Possibilities

Chapter 3 – The Financials Of Free Travel

Chapter 4 – Conquer Minimum Spend Requirements & Manufacture Points

Chapter 5 – The Power Of Chase Ultimate Rewards Points

Chapter 6 – Using American Express Points & Membership Rewards

Chapter 7 – The Third Way: Travel Reimbursement Cards

Chapter 8 – Valuing Points & Miles

Chapter 9 – Fees, Taxes & Surcharges, Oh My!

Chapter 10 – Airline Alliances: Your Ticket To (Almost!) Anywhere

Chapter 11 – Hacking Award Flights: The Power Of Stopovers & Open-Jaws

Chapter 12 – Flying On The Wings Of American Airlines & AAdvantage

Chapter 13 – From Georgia To The World: Flying With Delta Airlines & SkyMiles

Chapter 14 – Rhapsody In The Skies: Flying With United Airlines & MileagePlus

Chapter 15 – Going Anywhere With Alaska Airlines

Chapter 16 – Fit For Royalty: Flying With British Airways

Chapter 17 – The Friendliest Skies: Flying With Southwest Airlines

Chapter 18 – New York's Finest: Flying With JetBlue

Chapter 19 – Round The World Tickets: Circle The Globe For Free

Chapter 20 – Oasis At The Airport: Your Fast-Pass To Airport Lounges

Chapter 21 – Riding The Rails: All Aboard Amtrak Guest Rewards

Chapter 22 – Nights Or Flights: The Unique Value Of Starwood Preferred Group & Starwood Points

Chapter 23 – Your Gold Passport To The 5-Star Life: Staying With Hyatt Hotels

Chapter 24 – At Home Worldwide: Staying With Marriott

Chapter 25 – Globally American: Staying With Hilton