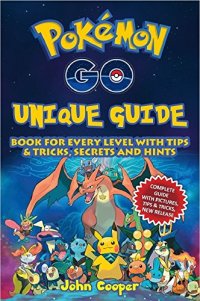 Free on 8th - 9th Sep 16



or borrow free on Kindle Unlimited.
No reviews yet.
Also Available as:
Print Edition

It's Time For You To Become A Pokemon Master!
PLEASE NOTE: You DON'T need a Kindle to buy this book. It's available for immediate reading with your Amazon virtual cloud reader.
FREE BONUS INSIDE!
After reading this book, you will be equipped with all the basics that you need in order to begin your journey as a Pokemon trainer. Most beginners often find it difficult to get started with Pokemon Go efficiently, and as a result, it takes them a longer time to reach higher levels.
Get ready to enlighten yourself, and to begin your journey towards being the ultimate Pokemon trainer!
Step by step, this book will enlighten you with all the basic information and techniques that you need in order to get started, and to surpass your friends in no time. This book will undoubtedly give you an edge over your peers, bringing you early success in Pokemon Go.
Each chapter in this book is written in an easily understandable language. After reading this book, not only will you be able to capture more Pokemon, but will be able to use in-game items and resources more effectively.
Here's the real kicker
The POKEMON Go Uniqui Guide is a #1 Most Exclusive Guide Book Ever. Unlike other guidance and recipes, this Guide has been created to focus on All Level Players.
Here Is A Preview Of What You'll Learn…
*How to get started

*Heading out to catch Pokemon

– Some foundational advises on Pokemon

– The difference between XP and CP

– Beginning to catch Pokemon

– How to get Pikachu as a starter Pokemon

*How to track Pokemon in-game

– Tracking nearby Pokemon

– How to find evolved and rare Pokemon

*In-game items in Pokemon Go

– Getting amazing items from Pokestops

– Usage of items in-game

– Hatching a Pokemon from a PokeEgg

*What do you need to know before evolving your Pokemon?

– Keeping a track of your target Pokemon's statistics

– Stardust and Breed-Specific Candy

*Level up and evolve your Pokemon

– Why is it important to level up and evolve your Pokemon?

– How to level up and evolve your Pokemon

– Joining a gym team and engaging in battles

*Tips to save your battery in-game
Moreover, You Will get FREE Bonus!!!
Satisfaction is 100% GUARANTEED!
© 2016 All Rights Reserved!