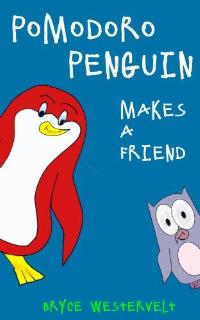 Also Available as:
Print Edition

FREE Coloring Page Inside!
That's right…For a limited time you can download a FREE special-edition coloring page for your child with your purchase of "Pomodoro Penguin Makes a Friend."
"Pomodoro Penguin Makes a Friend" is a rhyming children's picture book aimed at ages 4-8, perfect as either a bedtime story for younger children or a nice story for an early reader.
Join a little red Penguin named Pomodoro on his quest to cure boredom and find friendship. This pasta-loving bird may be different from the other penguins thanks to his marinara colored feathers, but that doesn't mean that he can't find a new friend.
Pomodoro encounters a bully, but in the end, it is his love of all things pasta that helps him find an unlikely dinner partner!
Fun illustrations and snappy rhyme will surely be a hit with children of all ages.
What the readers are saying about Pomodoro Penguin:
"…great pictures, great story, great rhymes, and even a little lesson tucked into [this children's picture book]." – Shane
"[Pomodoro Penguin is an] instructive tale of friendship and what happens when you get rejected." -StevieV
"[This Children's picture book is] perfectly suited for multiple readings with the kiddos" – Renee
Grab it right now while the FREE Pomodoro Penguin Coloring Page is still available!