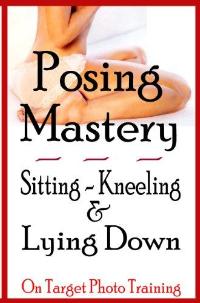 Posing Mastery – Sitting, Kneeling & Lying Down
Revised Edition with even more illustrations!

Posing Mastery IS within your reach! It is really easy once you learn and understand the basic silhouette shapes that lead to all the posing variations!!
Sitting and Kneeling poses offer a lot of challenges… and opportunity. After you've checked out this simply written, easy to read – easy to understand – course volume, you will totally understand how to pose your models so that they will look their best!

For a sample of what is covered, here is the Table Of Contents:
Introduction

Posing Overview And Review

The Overall Shape – Groups

The Pyramid

The Diamond

The Diagonal

The Overall Shape – Individuals

The "I" Pose

The "C" Pose

The "S" Pose

The Zig Zag

Sitting and Kneeling

It's The Angles That Matter

Perpendicular Lines Vs. Non-Perpendicular Lines

The Four Basic Sitting and Kneeling Silhouettes

The Geometric Pose

The Acute Angle Pose

The Obtuse Angle Pose

The Mixed Angle Pose

Lying Down

Mixed Posing Silhouettes

The Modified "I"

The Modified "C"

The "S" In Lying Down Poses

The Photo Notebook

Here Are A Couple More Samples

Photo Exercise

How To Improve Your Photography

Additional Photo Training
In this volume, we learn the Zig Zag pose – this is the basic silhouette that leads to all the various sitting and kneeling options.
Four Basic Sitting and Kneeling Silhouettes – Here is where we go into the various angles …90 degrees, acute and obtuse that are used to create all those stunning portraits you see. Before you know it, you'll be making them too!

Check out this volume and in an hour or so, you will never look at sitting and kneeling poses the same way again!
Get YOUR copy right now!