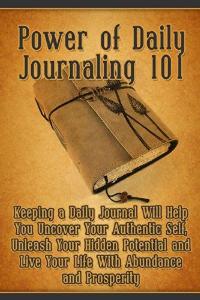 (Power of Daily Journaling 101)
You're About to Discover How Daily Journaling Uncovers Your Authentic Self
You're about to discover a proven method on how you can live with abundance and prosperity for the rest of your life. Millions of people go through life not fully understanding who they are, how their early childhood environment influences everything they do to this very day and resign to living a life of compromise and mediocrity. Most people wish for a better life but think they are powerless to do anything about it.
The truth is, if you are unhappy with your circumstances and haven't been able to change, it's because you are lacking self-knowledge. This book goes into a step-by-step journey of self-discovery that will help you to uncover your authentic self, unleash your hidden potential and put you on a life path of living your life with abundance and prosperity all through the simple power of daily journaling.
Here Is A Preview Of What You'll Learn…
How journaling helps you identify life patterns
How to understand what formed those patterns
How your feelings are anchored to the past
How to acknowledge the past as supportive whether good or bad
How to discover your sacred gifts and unleash your hidden potential
How to identify the good and program yourself to receive more
How to recognize the bad and create a quiver of powerful options
How to live a life on purpose instead of resignation
Much, much more!
Download your copy today!