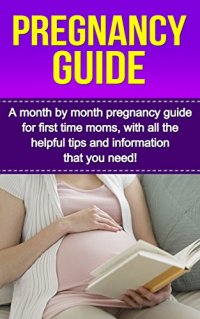 Pregnancy Guide
Today only, get this Amazon bestseller for just $2.99. Regularly priced

at $4.99. Read on your PC, Mac, smart phone, tablet or Kindle device.
Finding out that you're pregnant is one of the most exciting moments in any woman's life! However, this amazing time can also be a scary one, with lots of new experiences, symptoms, and side effects of being pregnant.
This book breaks down the whole process week by week, and tells you what to expect each step of the way. It covers the whole process, from getting pregnant in the first place, right up to the birth of your child.
You will learn about the different symptoms to expect at each month of the pregnancy, and how your baby will be developing at each stage. There are also suggestions as to how you can ease any discomfort you may be experiencing, and helpful tips to make the pregnancy be a joyous time!
Finding out that you're pregnant is an amazing experience. Make this exciting time of your life smoother and more enjoyable with the help of this handy guide!
Here Is A Preview Of What You'll Learn …
Signs That You May Be PregnantWhat to Expect at Each WeekDifferent Symptoms You'll Experience at Each MonthHow Your Baby is Developing Over TimeHow to Ease Pain & DiscomfortMuch, much more!

Download your copy today!
Take action today and download this book for a limited time discount of only

$2.99!