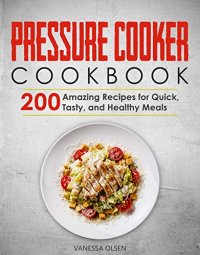 This book will be Free on 21st Aug 22
Set a Reminder:
Google Calender - Yahoo Calender - Live Calender
---
Even the busiest family can cook at home with the pressure cooker
Finding time to cook can be difficult these days. Whether you?re working long hours at a job, managing your kids? activities, or both, cooking at home can seem like a long-deceased dream. That?s where the pressure cooker comes to the rescue! It cooks food extremely fast, preserves nearly 100% of the nutrients, is easy to use, and easy to clean.
This book is packed with easy-to-understand information and every kind of recipe you could imagine.
Even if you?ve never used an electric pressure cooker, the book will explain how it works, how to use it, and how to keep it clean so it lasts for years and years. You?ll even get a chapter on how to convert slow cooker recipes to the pressure cooker, and indexes at the back of the book that show how long ingredients cook in a stovetop cooker versus an electric one. The intro chapters are short and to the point, so you can start cooking as soon as possible and take a crack at any of the 200 recipes the book offers.
The recipes are divided up into sections, so you don?t have to worry about being overwhelmed. They include approximate nutritional info, as well. In the recipe chapters, you?ll find:
Breakfasts like chocolate zucchini muffins, cheesy grits, and cinnamon roll oatsMain dishes divided by protein, like rosemary lamb, spicy chicken wings, shrimp risotto, and pork roastsRecipes for sides and snack dishes including classic potato salad, mac ?n cheese, and fried riceVegan and Paleo options such as BBQ tofu, stuffed acorn squash, and grain-free meatballsStocks and sauces like beef broth and Alfredo sauceMouth-watering desserts including molten lava cake, apple dumplings, and more!
The electric pressure cooker is the one piece of equipment every kitchen needs. It really can do it all, and it can boost the confidence of even the most inexperienced and timid chef. Open this book and start cooking!