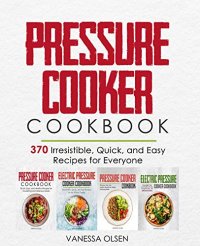 This book will be Free on 14th Aug 22
Set a Reminder:
Google Calender - Yahoo Calender - Live Calender
---
Get the ultimate guide to pressure cooking including hundreds of recipes!
Are you tired of always trying to come up with healthy, tasty meals for your family? Are you in a kitchen rut where you just recycle the same recipes over and over again? Maybe you?re so busy, you don?t even have time for home-cooking, and have resorted to take-out and frozen food. Whatever the reason, has cooking just become another dreaded chore?
If this describes you, then you need this book. Pressure cooking is not only the fastest way to prepare food, it is also the method that preserves the most nutrition. It?s so rare to find the best of both worlds, but a pressure cooker – either stove top or electric – is the one kitchen tool I can?t imagine living without.
This book provides you with everything you would ever need to know about stove top and electric pressure cookers, including:
The fascinating and centuries-long timeline of pressure cookingWhy pressure cooking is the best cooking methodThe difference between stove top and electric pressure cookersHow to safely use both stove top and electric cookers
This book is much more than just an informational guide, however. The main part is the 370 recipes for both stove top and electric pressure cookers.
Breakfast, lunch, dinner, dessert, and snacks are thoroughly covered, so it will take a long time before you run out of ideas! All the recipes are designed to be as fast and simple as possible, so whether it?s a big batch of hard-boiled eggs or a gourmet holiday dinner, just about anyone with a few cooking skills can pull off any dish.
The recipes also include cooking tips and definitions, so if you do come across something you?re not sure about, odds are it?s explained right there in the recipe.
You can expect recipes like:
A wide variety of oatmeals, such as strawberry oats, mango ?n cream, breakfast quinoa, and so onRich and hearty soups like spicy chicken, tomato bisque, and creamy cauliflowerUnique meat dishes such as Chinese Cola chicken wings, peanut butter sesame short ribs, and sour-cherry duckSavory seafood like poached salmon with sour cream, mussels, and chowderMind-blowing desserts like chocolate cheesecake and wine-stewed fruitEvery kind of side dish and snack, from veggies to rice to dips
Don?t slave away over a stove or put off cooking meals at home any longer. Cooking can be fun and easy again, without sacrificing nutrition or flavor!