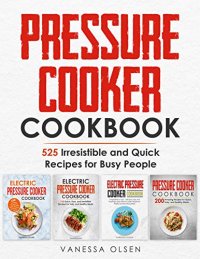 From classic comfort food to specialized diets, the electric pressure cooker can do it all!
Planning and preparing meals takes time. Many of us don?t have that time. Pressure cooking can make your life much easier. By raising the boiling point of water, pressure cookers dramatically cut down on the time it takes to prepare a meal. The appliances also preserve more nutrients, so they?re a great choice if you want to eat healthier!
In this book, you?ll learn everything about electric pressure cookers, including:
How they workHow to choose a brandHow to keep your cooker cleanHow to use the programsHow to convert slow cooker recipesHow long it takes to cook popular foods
This book also gives you 525 recipes. Follow the instructions to make things like:
Breakfast (like homemade yogurt)Poultry and pork (like chicken thighs and pork chops)Beef and lamb (like brisket and lamb chops)Seafood (like spicy lemon salmon)Pasta (like spicy-peanut chicken pasta)Stocks and sauces (like bone broth and pesto)Vegan and paleo meals (like vegetable soups and mango chicken)5-ingredient meals (like cheesy grits)Sides and snacks (like applesauce and cornbread)Desserts (like cheesecakes and puddings)
With just one appliance, you can transform how you cook. Even if you have a busy lifestyle, you?ll find yourself cooking more at home and reaping the benefits. With recipes like raspberry jam, pumpkin butter, and homemade hot sauce, you?ll also have lots of great ideas for gifts!