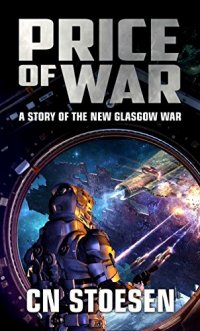 Free on 19th - 23rd Dec 17



or borrow free on Kindle Unlimited.
No reviews yet.
A fanatical enemy in pursuit, can New Glasgow hold on against the odds?
Locked into battle with a relentless foe, Duncan's marines are bystanders for the battle. With their ship in single combat with the enemy, they hope they last long enough to repel boarders and contribute to victory.
On the fringes of the FUP, a new threat arises. Exiled to a backwater planet due to his perceived failures in New Glasgow, Major Dietler's battalion faces a new adversary on the remote outpost world of Gascony. Out gunned and unsupported, he must make tough decisions for the future of his command.
Will the FUP be willing to pay the price of war on multiple fronts or make an uneasy peace to keep the union together?
Price of War is the third book in the New Glasgow War series.
New Glasgow War Series.
Out of the Ashes – Book 1 (https://www.amazon.comdp/B076JNY156)
Counter Strike – Book 2 (https://www.amazon.com/dp/B077BRN7M5)
Price of War – Book 3
Receive a complimentary copy of the prequel story Free Fall and updates on future books in this series by signing up to the mailing list:
tinyurl.com/yb7u4qej