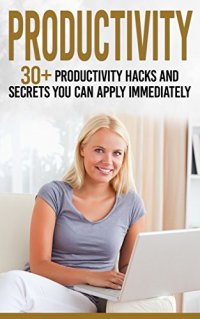 Free on 23rd - 27th Jun 15



or borrow free on Kindle Unlimited.
No reviews yet.
A Concise and No-Fluff Guide on Boosting Productivity
Get this Kindle Book for just $2.99. Regularly priced at $4.99. Read on your PC, Mac, smart phone, tablet or Kindle device.
The quality of your life depends on how you work for it. For starters, a happy, meaningful and successful life is the result of your hard work. However, life is not all about working. Your work is only a means to get to your goals in life. Knowing the secrets to achieve all your dreams is the key to a wonderful life, and you can make that happen by working smart.
In Productivity: 30+ Productivity Hacks and Secrets You can Apply Immediately, The Ultimate Time Management and Productivity Guide, you will find productivity strategies that have catapulted successful individuals to the zenith of their chosen fields, whether in business, academe, arts, entertainment and personal lives.
These people used simple and practical methods that help them to achieve their goals faster. They engaged in certain habits to be more efficient, and consequently open doors to great opportunities and live life to the fullest. These secrets are called productivity hacks, which are useful tools in helping you complete tasks with less effort and time.
This book shares powerful tips that can help you become more productive. Apply them consistently in your work and personal life to get the optimum result. You will be amazed by your power to transform your life with just a few productivity hacks.
Table of Contents
IntroductionA Primer to Productivity Hacks – The Basic Principles on Productivity11 Hacks that Successful People Use to Increase Productivity11 Hacks to Be Productive at Work15 Hacks to Have a Successful Life10 Things Your Need to Stop Doing to Be ProductivePowerful Steps to Increase Your ProductivityConclusion

Download your copy today!
Tags: productivity, be more productive, productivity hacks, improve productivity, improve concentration, get more done, life hacks