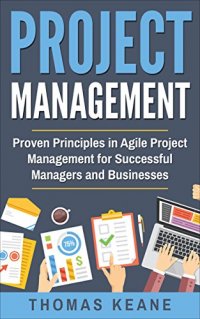 Free on 13th - 17th Apr 18



or borrow free on Kindle Unlimited.
No reviews yet.
Discover Proven Principles in Agile Project Management
This book is a detailed manual in agile project management and product management using scrum and other methodologies.
It will explain the roles and principles involved in managing projects.
Don?t worry if you have never managed a project before.
After reading this material, you will know how projects work and what you can do to ensure their success.
Learn the 15 common mistakes in project management you have to avoid
The first chapter focuses on the fundamentals of project management.
You?ll discover the different aspects of this field such as quality management and risk management.
The second chapter will define agile software development and scrum.
After reading the second chapter, you?ll know how to run your own scrum projects.
The third chapter focuses on planning, scheduling and resource management.
It will teach you how to form effective plans for your projects, as well as the information that you?ll need during the planning stage.
The fourth chapter is all about risk management.
If you are careless, they might ruin the project you and your team are working on.
After closing a project, you?ll evaluate your team?s performance and record all the lessons you?ve learned from it.
The last chapter gives fifteen of the most common mistakes that project managers commit.
Aside from explaining each mistake, the said chapter will give you a detailed solution.
Grab your copy now, available as Kindle or paperback version
Here is what this book holds for you:
Fundamentals of Project Management
Agile Software Development and Scrum
Business Communication and Presentation Skills
Effective Project Planning and Resource Management
Risk Management
Closing and Evaluating Project Success
15 Common Mistakes in Project Management You Have to Avoid
Bonus: Business Communication and Presentation Skills
Get this book now and learn proven project management and project planning techniques.
Learn to make decisions, analyse risks and complete your projects successfully.
Become a master project manager.