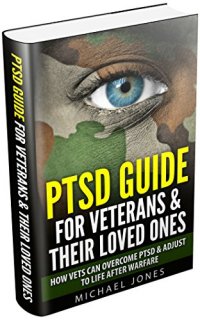 PTSD Guide For Veterans & Their Loved Ones
Today only, get this book for just $2.99. Regularly priced at $4.99. Read on your PC, Mac, smart phone, tablet or Kindle device.
Discover How To Overcome PTSD & Manage Life After Warfare
Have you been to war? Or do you know a friend or a close family member who has been to war? Then this book is for you. This book guides both veterans and their loved ones through adjusting to life after warfare and overcoming the devastating symptoms of PTSD.
If you have a loved one who is a veteran of war, do you know what he or she has gone through and is still dealing with? Have you noticed significant differences from the person they were before they went to war and the person they have become after the war? Do you know that the events of the war could be haunting them in silence and could be the ones responsible for the sudden change in behavior, attitude and preferences? Well, your friend, father, mother, brother, son, daughter, sister or any other family member could be going through Post Traumatic Stress Disorder because of the war. They could be having flashbacks, nightmares, hallucinations and sleepless nights because of PTSD. They could also be having suicidal thoughts or thoughts of harming others.
Have you already started noticing some of those weird behavioral changes? Are you worried that your loved one might hurt him or herself or hurt someone else? Do you want to know how to help him or her adjust to life after warfare and even prevent any chances of the sudden changes affecting anyone in your family? This book will teach veterans and loved ones everything necessary to help your veteran overcome PTSD.
Here Is A Preview Of What You'll Learn…
The Basics of PTSDPTSD & VeteransUnderstanding the Impact On Family and RelationshipsHow Veterans Can Help ThemselvesCoping with PTSDMuch, much more!
Take action today and download this book for a limited time discount of only

$2.99! Don't spend another day suffering!!
Tags: ptsd, post traumatic stress disorder, ptsd relationships, ptsd iraq, ptsd breakthrough, ptsd books