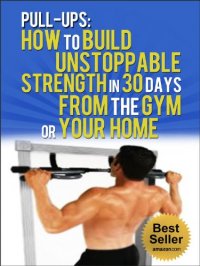 Free on 14th - 18th Jun 15


No reviews yet.
This book appears to be unavailable on Amazon.co.uk at the current time. If this is incorrect, please let us know here
Learn how to build unstoppable strength from doing pull-ups!
Today only, get this Amazon bestseller for just $2.99. Regularly priced at $4.99. Read on your PC, Mac, smart phone, tablet or Kindle device.
Discover the muscle building techniques of one of the best exercises you can do for your body, the pull-up!
This book goes into the exact lessons and principles behind the purpose of a pull-up, how to do them properly and a 30 day plan you can follow to build unstoppable strength!
Here is a preview of what you'll learn…
*Why you should be doing pull-ups

*Doing pull-ups the right way

*Types of pull-ups

*Doing pull-ups at the gym

*Doing pull-ups from the comfort of your own home

*The 30 day pull-up workout program

*And much, much more!
These techniques and lessons truly have the power to get you in the best shape of your life! I've had to learn all these the hard way but distilled everything I know into this book so you can get it right away and start building that eye-popping strength!
Download Your Copy Today!
Check out what others are saying…
"I've experimented with different workout programs in the past however I really didn't feel that I had the true, raw strength that I so badly wanted. After following this 30 day program, I was in the best shape of my life. Bar-none! This book is highly recommended!

-Tyson Garrison (USA)
"Wow – I can't believe how much strength I've gained by making these pull-ups a part of my workout routine. The best part is this book provides ideas and ways that you can easily do them from the comfort of your own home. I totally feel unstoppable now – no excuses. Buy this book and build that strength!

-Nicholas Hart (Canada)
"This Kindle book is a true gem. As a woman, I always wanted to get more toned but did not want to have that big bulky look. Fortunately, I was able to follow the 30 day program in this book and now find myself in the best shape of my life!

-Natasha Rudinsky (UK)
Tags: adjourn, arrest, balk, bar, block, blow the whistle on, break off, bring to an end, bring to standstill, call it a day, cease, cease fire, check, close down, come to an end, cool it, curb, cut short, desist, deter, draw up, drop anchor, end, frustrate, hamper, hold at bay, hold back, impede, intermit, interrupt, obstruct, pause, pull up , punctuate, put a cork in, rest, stall, stand still, stay, stem, stop, suspend, terminate, wait, Self Help Book, Self Help, Presentati, Oprah Winfrey, Tony Robbins, Anthony Robbins, Zig Ziglar, Jim Rohn, Robert Kiyosaki, Donald Trump, Brian Tracy, Rick Warren, Joel Osteen, Jack Canfield, Brendon Burchard, Napoleon Hill, Malcolm Gladwell, Steve Pavlina, Wayne Dyer, Stephen Covey, Vic Johnson, CS Lewis, Og Mandino, Dalai Lama, Nelson Mandela, Tony Little, Elliot Hulse, MMA, Mixed Martial Arts, UFC, Dana White, Georges St. Pierre, GSP, Bodybuilding, Arnold Schwarzenneger, Mr. Olympia, the new encyclopedia of modern bodybuilding, Flex Wheeler, Extreme muscle enhancement, Girth control, Weight loss, Biceps, Triceps, Home Gym.