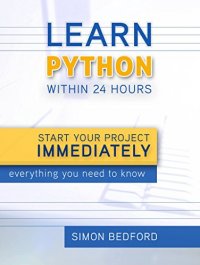 Free on 24th - 28th Aug 15



or borrow free on Kindle Unlimited.
No reviews yet.
Everything You Need To Know
*FREE ON KINDLE UNLIMITED*
Most Simple Way To Learning Python
Special Launch Price of $2.99. Regularly priced
at $4.99.
Start Your First Project Within 24 Hours
Learn programming in an easy and simple way and start programming in the least time possible. Programming skills are important in this computer era and so, people who want to get ahead are those who have learned at least one programming language so that they can code and interpret codes easily. If you have not started learning programming, Python could be the best starting point as it is the easiest way to learn and execute programming language. It uses simple and short codes that are typed, with no complex codes that are seen in other programming languages.
The key to success in the IT and Business Industries is to master programming skills. Equip yourself today with advanced skills by learning Python programming language so that you can start your first project within 24 hours.
Why Learn About Python?
Coding like an expertInterpreting codesAttaining career successSaving moneyMaking money The basis for other programming languagesMore resourcesGreat project community support
Here Is A Preview Of What You'll Learn…
What Python Programming is all About Common Python Syntax Beginners Should LearnProgramming in PythonEditing PYD FilesCoding in Python Compiling Codes in PythonPython Tips for BeginnersPython StringsSplitting Python Strings While Skipping CharactersPartitioning a Python StringPython String ReplaceSlicing Python StringsBenefits of Learning PythonMuch Much More!
Download your copy today!
Take action today and download this book for a limited time discount of only $2.99! Learn Python Today.