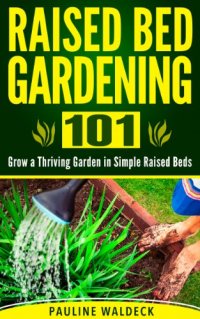 Free on 28th Nov 14 - 2nd Dec 14


No reviews yet.
Let Me Help You Grow A Thriving, Easy To Maintain Raised Bed Garden
If You're Ready To Delve Into The Joys Of Raised Bed Gardening You've Come To The Right Place
* * *LIMITED TIME OFFER! 40% OFF! (Regular Price $6.99)* * *
Are you sick of ugly, hard to maintain gardens? Want to save water while having a beautiful garden you can be proud of? Raised Bed Gardening is your answer!
Here Is A Preview Of What This Book Contains…
A Look Into What Raised Bed Gardening Actually Is

Benefits Of Raised Bed Gardening

Things Required To Build A Thriving Raised Bed Garden

How To Design Your Very Own Raised Bed Garden

How To Correctly Prepare Your Soil **A MUST READ**

How To Select Suitable Plants For Your New Garden

Maintaining Your Raised Bed Garden Correctly

Common Pests & Diseases Explained, Along With How To Conquer Them

Issues Raised Bed Gardeners Run Into And How To Fix Them

Much, Much More!
Hurry! For a limited time you can download "Raised Bed Gardening 101: Grow a Thriving Garden in Simple Raised Beds" for a special discounted price of only $3.99
Download Your Copy Right Now!
———
Tags: Raised Bed Gardening, Raised Bed Gardening For Beginners, Square Foot Gardening, Vegetable Gardening, Beginner Gardening, Gardening For Beginners, Container Gardening, Urban Farming