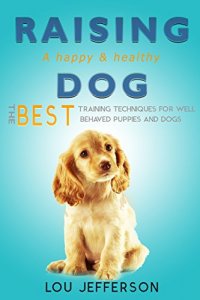 Adding a puppy or a new dog can be an exciting and challenging time for you and your family. Knowing how to train your puppy to be well-behaved and respect the house rules you set will is the key to success for a happy puppy and family!
Download FREE with Kindle Unlimited!
Getting a new puppy is an extremely an exciting and a life changing experience for the whole family. Everyone is always extremely excited when the time comes to bring home the new family member, but with great happiness becomes a great responsibility.!
As you are now bringing home that cute, irresistible bundle of fur, you need to have a teaching method in place to teach him or her the correct way to not only be your best friend but to listen to your commands and become obedient. In this book, you will learn different ways and techniques to teach your puppy to be obedient using positive reinforcement.
You may ask yourself, how do I stop this puppy from peeing all over the house? How do I teach it not to be so destructive and ruin the expensive furniture? How am I supposed to sleep when it whines all night? How do I teach it to play nice with the other dogs?
If you wish to know the answer to these questions I encourage you to read on into the depths of this book, where you will not only find yourself learning in great detail about puppy training, but also techniques and methods for positively controlling the behavior of the new member of your household.
Dog training is important for every owner. If you want to have a puppy who will live with you and share in your daily life, you will need to train him, so he does not endanger you or the things you consider important in your household.
Inside, you?ll find:
? Choosing the right dog for you and your family
? General tips for effective puppy training
? Welcoming your new puppy home
? Tools to help you with training
? Basic to more advanced dog training techniques
? Instructions on giving your puppy the proper nutrition
? Why and how to groom your dog
? The many benefits of dog training
? How to keep your dog healthy
The training topics in this book include:
? Basic commands
? Clicker training
? Housetraining
? Obedience training
? Barking control
? Crate training and its various implementations
? Treating separation anxiety
? Walking training
? How to have the puppy stop begging for food
? Fence training
? Retrieving
? How to have the puppy stop digging
? Jumping control
? Teaching your dog to stay
? Introducing a new dog into a dog-filled home
? Solving your dog?s biggest problem
And much more!
Let?s get started!
Read on your favorite devices such as Kindle, iPhone, iPad, Android cellular phone, tablet, laptop, or computer with Amazon's free reading Kindle App.
Scroll back up and click the BUY NOW button at the top right side of this page for an immediate download!