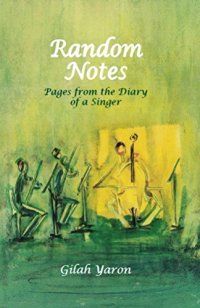 Free on 13th - 17th Jul 16



or borrow free on Kindle Unlimited.
No reviews yet.
Also Available as:
Print Edition

Random Notes is a collection of memories and anecdotes from the life of singer and musician Gilah Yaron. The musical environment in which she grew up is described throughout these pages and enables a glimpse into the events and circumstances that she experienced. They shaped her life as a student, a professional singer and voice instructor.
"I was impressed with the liberty that you allowed yourself to share with us the events that were not necessarily successful. It sends a message of credibility and human quality, and produces an instant bond with you. In the Israeli newspaper, Haaretz , Noam Ben Zeev wrote: "The Twentieth Century Quartet' is playing along with Gilah Yaron – one of the greatest singers to have appeared in the Israeli music culture." "I absolutely agree." Zvi Zemel,

pianist and colleague
"The story 'From Abroad on the Way Back Home' made me laugh. I felt such a relief that one can only receive from fairy tales or big dramas, and the story about the trip from Bat Yam actually brought me to tears." Mira Zakai, singer
"Your memories are interesting and enlightening. I admire you for your inner honesty and courage." Yaara Ben-David, poet and artist
"This book is written in an optimistic style and is certainly very engaging. I read it with great enthusiasm." Aliza Loebstein, graphologist