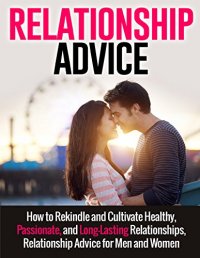 Free on 19th - 23rd Jun 17



or borrow free on Kindle Unlimited.
No reviews yet.
A Concise and No-Fluff Guide on Relationships
Get this Kindle Book for just $2.99. Regularly priced at $4.99. Read on your PC, Mac, smart phone, tablet or Kindle device.
Falling in love with the right person is the best thing that can ever happen to you in this lifetime. It creates magical experiences when two hearts beat as one. It adds color and meaning to your lonely existence. It creates relationships.
Relationships bring security and happiness. It brings deeper commitment that leads to marriage. As time goes by, the relationship faces many challenges, trials and temptations that can destroy the union. It is necessary for the couple to be strong and remain steadfast on their commitment to stay together.
Relationship Advice: How to Rekindle and Cultivate Healthy, Passionate, and Long-Lasting Relationships, Relationship Advice for Men and Women will give you insights on how relationships evolve and how to make it lasts until the end. It takes a lot of effort and time to build a healthy, passionate and lasting relationship. But the benefits lead to happiness and fulfillment.
In this book are ways to cultivate this kind of relationship and also the signs that point out if your relationship is in trouble. These telltales are common indicators of a fading relationship. But the good news is there are ways you can do to rekindle the dying embers in your relationship. There are advices for women and men who are the key players in this game of love.
Table of Contents
Love and RelationshipsThe Stages of RelationshipWays to Make Your Relationship LastTelltales of a Troubled RelationshipWays to Rekindle the Passion in your Relationship (Advice for Women)Ways to Rekindle the Passion in your Relationship (Advice for Men)Conclusion
Testimonials
I liked this book so much! I have found many helpful and sweet ideas that will help me build a strong and healthy relationship with my partner. I enjoyed reading this book, it made me realize the important matters in a relationship. Alicia Jones
Relationship always need to be rekindled and assured. I found this book to the point with out any exaggerated contents. JACK
This really is a 'must read' not only for those who would like to try to resolve relationship problems but also those who would like to avoid conflict. Stella
Download your copy today!
Tags: relationship advice, relationships, relationship guide, relationship tips, relationship information