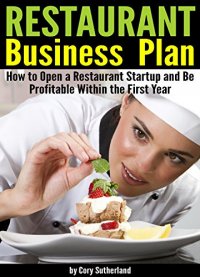 If you want to start your own restaurant business, then this book is for you!
Read on your PC, Mac, smart phone, tablet, or Kindle device.
Starting a business is always tough – especially in the food industry, and particularly for restaurant businesses. Among other things, you'll have to please a discerning clientele (who will post reviews online before they could finish their meals), deal with fresh produce and other perishables (that have shelf-lives always too short), and keep in line a likely-diverse kitchen staff (whose attitudes tend to clash). Another proof that the restaurant business is tough: around half of all restaurant ventures fold-up in losses. This is, of course, due to varying reasons – although the complications that restaurant owners face are more or less the same. So is starting a restaurant even a viable prospect these days? Or are restaurant start-ups doomed to fail?
The answer: Restaurant businesses are not all doomed to fail, and starting one can be a worthwhile endeavor. After all, every man and woman alive still need to eat. This means there will always be potential clientele that your restaurant can feed and profit from.
The important question then is, how can you successfully start a restaurant and produce a steady (and healthy) profit? That's exactly what this book will show you how to do. I'm going to guide you through all the preparation and steps you need to take to launch a restaurant business and get positive returns within the year. I'll walk you through the essentials of starting a business including how to get funding, how to hire the right people, how to develop a menu, as well as what traps to avoid to make sure your restaurant remains successful. Let's get started!
Here Is A Preview Of What You'll Learn…
How to Develop a Restaurant Business Plan that will Bring Returns Within a YearFinancing Options to Ensure Sufficient Cash FlowWhat to Look For in Selecting the Ideal LocationHow to Choose an Executive ChefTips for Hiring an Efficient Kitchen Crew and Front-of-House StaffHow to Make the Most Out of Marketing and PromotionsMuch, much more!Download your copy today!