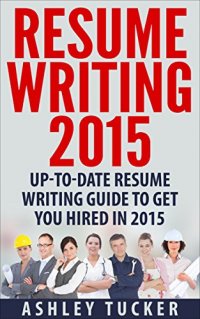 Free on 2nd - 5th Apr 15



or borrow free on Kindle Unlimited.
No reviews yet.
Resume Writing 2015: Up-to-date Resume Writing Guide to Get You Hired in 2015
The employment market is only getting increasingly more competitive, especially considering there are more people than there are jobs. In order to succeed in not only landing a job, but in landing a dream job, which must pay very particular attention to how we are marketing ourselves to future employers. Let's face it, we are a brand, the employer is the target market and we need to market ourselves in order to make the sale, otherwise known as getting the job! Treat your resume like free advertising for your brand and you will not only succeed in getting one job, you will hopefully have your choice of a variety of jobs!
Resume Writing 2015, is an up-to-date resume writing tool. You get advice on what employers are looking for in 2015, step-by-step instructions on how to structure and format your resume and how to write outstanding copy that will win your employer over and get you through to the next stage of the hiring process.
In RESUME WRITING 2015 you will get…
Hot Tips that are relevant to todays employment marketThe mindset you need in order to write a winning resumeDetails on formatting your resumeDetails on the copywriting required in your resume in order to sell yourselfWhat you absolutely must not do on your resumeA sample resume to show you exactly how to put it all into actionAnd so much more!
If you're ready to land your dream job then go ahead and download your copy today!