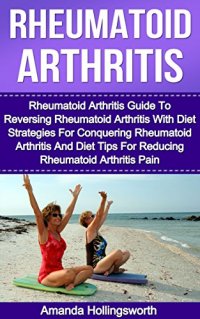 Free on 30th Apr 17



or borrow free on Kindle Unlimited.
No reviews yet.
Rheumatoid Arthritis Guide To Reversing Rheumatoid Arthritis With Diet Strategies For Conquering Rheumatoid Arthritis And Diet Tips For Reducing Rheumatoid Arthritis Pain
Get this Amazon bestselling book today!

Rheumatoid Arthritis can be devastating to your health but it doesn't have to be. By incorporating the lifestyle tips and diet strategies I share with you in this book you can not only start living a pain free life but begin the process of reversing Rheumatoid Arthritis. In this book you will discover not only how to relieve the pain associated with Rheumatoid Arthritis but also how to send Rheumatoid Arthritis into remission and start regaining the health you once know. I will share with you proven steps and strategies on how healthy eating can help in the management and reduction of Rheumatoid Arthritis symptoms. You will discover what foods to eat more of in order to avoid inflammation. You will also discover what foods trigger the aggravation of the symptoms. After reading this book you will have a comprehensive understanding of the disease and you will be equipped with strategies to alleviate and possibly conquer rheumatoid arthritis. I wish you all the success in the world as you embark on the road to greater health through lifestyle changes and diet to start the recovery from Rheumatoid Arthritis. Remember… you can beat Rheumatoid Arthritis and this book will help you do it!
Here Is A Preview Of What You'll Learn…
Understanding Rheumatoid ArthritisLiving With Rheumatoid ArthritisTreating Rheumatoid ArthritisConquering Rheumatoid ArthritisEating Well With Rheumatoid ArthritisExercise And Rheumatoid ArthritisRheumatoid Arthritis MythsRheumatoid Arthritis Friendly RecipesAnd So Much More!
Download your copy today!

Take action today and download this book now!
Tags: rheumatoid arthritis, rheumatoid arthritis diet, rheumatoid arthritis cure, rheumatoid arthritis exercise, rheumatoid arthritis handbook, rheumatoid arthritis relief, rheumatology, rheumatoid arthritis, rheumatoid arthritis diet, rheumatoid arthritis cure, rheumatoid arthritis exercise, rheumatoid arthritis handbook, rheumatoid arthritis relief, rheumatology,