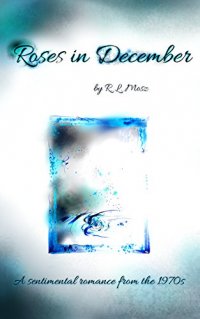 The blue rose has long been a literary symbol of perfect, yet impossible or unattainable, happiness and love.
ROSES IN DECEMBER, told in an unassuming, narrative-based storybook style, is a simple tale set in the early 1970s. Decades before the onset of texting, Annie Aldridge and her poetic, whimsical boyfriend, Ethan Jackson, conceal notes of affection for each other in secret hiding places. But Ethan is a man in search of himself and is unable to decide with whom he wants to be. Just across the street, police detective Al Tortino, admires Annie from a careful distance. But for Annie, their handsome neighbor is little more than an increasing annoyance, despite his being close friends with her uncle and young niece, with whom Annie lives in the imposing old Graystone house.
The harder Annie struggles to win over the elusive Ethan, the more hopelessly entangled her life becomes with the caring, classically handsome detective. Soon, despite the lamentations of her family, she loathes the very sight of her neighbor and refuses to speak to him at all.
Yet as Annie pines for Ethan, Al has the case of his career to solve: A maniac is attacking people on the streets of North Park. Al's deepening love for Annie wears away at his pragmatic nature; but when the detective's judgment finally slips, a terrible price may come for all to pay.